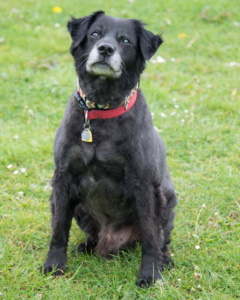 Ted
Male Collie cross
My name is Ted – nickname Teddy Bear. I'm not great at having my photo taken, foster mum says I turn away or wander off!
I can't remember much of my history, except that a few years ago, when I was about 9, my family didn't want me any more and I ended up in a dog pound.  I heard the staff say, "if they don't have him, I'm afraid he must be put to sleep".
Luckily an animal ambulance, with the words "Waggy Tails Rescue" came and I went on a long journey to Helen's House.  I was put into a lovely little room, with a bowl of fresh water and yummy food. There was a large clean bed for me to snuggle down into.
Some time later, a man and a lady came to see me; we liked each other straight away so I went to live with them.  After two happy years disaster struck again.  The lady died, and so did her husband about a year later.
Back at Helen's House, another lady came and took me  to her home, to "foster" me.  I was not very happy and missed my family very much.
However, time passed and I settled down.  The next thing I heard, was that they loved me so much, they wanted to keep me.  Hurrah!!
I do have an ongoing health problem with my insides and have to see Mr Vet quite a lot: comes of getting older, I suppose!
Sponsoring me helps with my vet bills which cost the charity quite a bit.